Craft and Visions latest book is a delight to the eyes. National Geographic photographer Oded Wagenstein takes us through the process of creating more compelling photographs in 'The Visual Storyteller'. This 78 page ebook is a concise but educational look at the process of story telling in a photograph and the creation of a story arc therein.
There's a lot of range in this book, and each part is reinforced with a gorgeous photograph. The majority of the book is techniques for creating photos like these, with a shorter section on the gear you need, and finally a look at getting your photos into the marketplace.
I don't really want Lightroom Blog to turn into a book review site, but I am in a phase of consuming resources currently, so it's inevitable that some of that will come out here.
For me, this book does a good job of showing ways to get engage the viewer with your work. It begins with describing the story arc, the beginning, and end of the story within the photo. It discusses the lead character in the photo, and then the supporting characters. The decisive moment gets a chapter to itself, and ways to recognise it. There's good advice for preparing to capture it too. I love the section on portraits, and the process of framing them to bring even more meaning to the photo. My favourite line of the book is here 'Everyone can go to China and take a photo of an older man; within your photo, you should convey the feeling you had while meeting that man.'
The book continues with a discussion of lighting. From using natural light, to bouncing light in, and to using flash (quite subtle in these photos), the gamut of techniques are touched on here. There's a cool behind the scenes of a shot with Oded standing on a chair aiming down, while an assistant with a reflector bounces light into a scene that looks far busier than the final photo would suggest. With flash covered, Oded then discusses gear, and your relationship with it.
The book concludes with a look at publication, and an interview with National Geographic (and Traveler) editor Daphne Raz on Editorial Storytelling.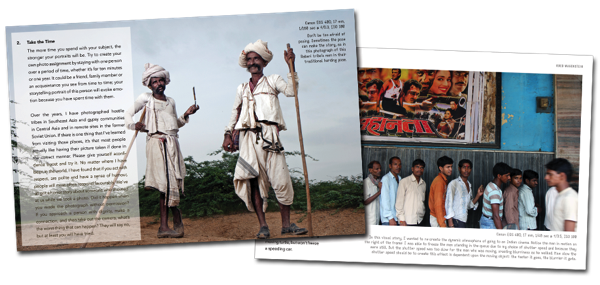 Sometimes a short book is all it takes to hammer a point home, and this book does it well. Not all photos have to be a story, but this ebook certainly makes it easier to start creating stories in your photos. One thing I do believe, nothing beats doing it, and book learning is no good without action. There are creative exercises throughout the book to this end, giving you practical lessons to go with the text.
As with all Craft and Vision books, there is an introductory offer. Get the book for $4 with the code STORY4 until Oct 21. Buy 5 or more books and get 20% off with the code STORY20. This might be a time to consider getting my Essential Development ebook and presets for Lightroom 5 as part of this package.