I've said it before, but I'm a firm believer in ongoing education. I read prolifically, and regularly attend workshops and seminars. I believe myself to be an experienced photographer, but equally so I believe there is always something to learn.
Having heard that Doug Chinnery was doing a London night workshop, I took a peek at the details. A 12 hour overnight trip around London in a black cab? Looking at the price, my thought was, I don't care about the workshop, that's a great price to get chauffeured around London. Checking that I could borrow a tripod to minimize baggage, I booked it. The bonus being we were being taken to places you wouldn't normally get to.
I shot a lot of urban landscapes. I've even done a video for TThe Photographer Academy (formerly Phototraining4U) on it. My aim was simply to get new pictures.. and to meet Doug in person. We started off at the Houses of Parliament and Westminster Bridge, after being picked up from Kings Cross station. Our cab driver for the night was Terry Gibbins, another photographer, and he was also the owner of the Gitzo tripod I'd borrowed. The head on the tripod was a 3 axis head, and I fell in love with it very quickly.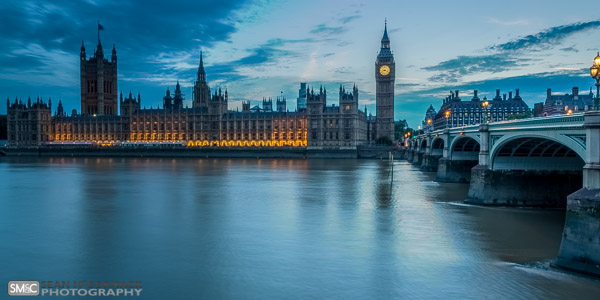 With the light changing rapidly, I chose to bracket for HDR. I've been using the HDR function on the Canon 5DIII for this, and set to ±3 stops. I leave the JPEG set to natural, but I rarely use it, preferring to process the 32bit HDR Pro TIFF in Lightroom instead.
Both Doug and Terry were very involved with the participant, providing tips and advice as well as suggestions. At one stage Doug said 'Composition is a very personal thing', probably one of the wisest things I've heard from any photographer for a long time!
We crossed the bridge to shoot light trails from passing buses. Unfortunately there were no lights on the clock tower for Big Ben. I snuck a quick shot of a river cruise boat pulling out across from the London Eye before settling into the light trails.
Light trails take a lot of patience. And luck. You get the timing right quickly enough, but different buses have different lighting, and some look far better than others. I got quite a few I liked, but this is my favourite.
We went around the corner to the other side of the Houses, but I didn't get a shot I was satisfied with. I ended up using a ColorChecker Passport as a light shield to help with flare, but got only one very average shot at the end. I'll put it in the gallery, but not here.
We went from there to a great view of Battersea Power Station. Doug picked this view to have the cranes silhouetted against the lit front of the station. The hard part was keeping detail in the chimneys though, as they're much brighter than the rest.
From there we went to the Prince Albert Bridge. I shot a variety of images, but the one including the little buildings were my favourite. I like how one of the ladies is taking a picture of me taking the picture.
Next up was a secret location. And it was based on a simple change in the evening. It has started to rain. While this meant we were probably going to get wet, it also meant there would be great reflections. So, here's the king of reflection shot of St Pauls.
I'm not going to post everything from the night though. We went to Millennium Bridge next, where we shot the photo that's my current Facebook cover photo.
We shot under the bridge, over the bridge and on the bridge. Good fun.
We did stop off for food in a really funky diner. I won't spoil where it is, or what it's called, but the food was awesome.
Next we went to another secret location to shoot shots of Canary Wharf.
Our final destination was Tower Bridge for Sunrise. Except the Sun decided that a blanket of cloud was a better idea.
An awesome sunrise would've made the night, but the lack didn't spoil it either. I think the other photographers, Paul, Liz and Joan also had a great night. Even if Joan had come from work, and was going back to work!
Big thanks to Doug and Terry for bringing us around and showing us locations we wouldn't have found on our own. I highly recommend anyone interested in cityscapes to go on this workshop.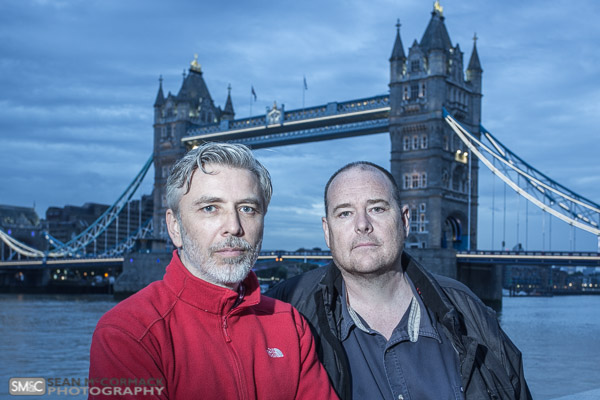 Terry and Doug at the end of the night.
All image sorting, selection and processing was done in Lightroom 5.2RC, bar the trip out to Photoshop to create the HDR merge (Something that could be a module in Lightroom!).
I've created a gallery with far more images from the night. Enjoy.