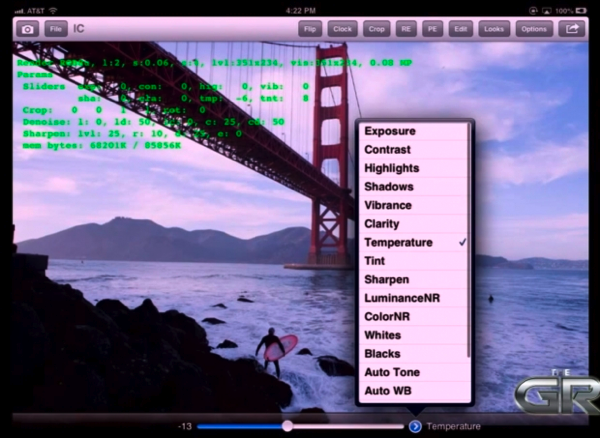 It's always great to get a hint of the future. When I wrote my post on Smart Preview Potential, little did I know that Adobe were already firmly on that.
Today, on The Grid, Lightroom and Photoshop Product Mananger Tom Hogarty demoed an iPad app that uses Smart Previews with Lightroom like controls. When needed, you can also access the full Raw file. The demo only had Develop tools, but hopefully('without promising') the plan is to have more selection tools as well, to make it possible to work on the go with your images, and have that work synced everywhere.
Tom was demoing on an iPad 2, so sometimes the frame rate was choppy. Some of the settings aren't working properly yet, but we did see a few of them in action. Visible in the flyout settings menu were Exposure, Contrast, Highlights, Shadows, Vibrance, Clarity, Temperature, Tint, Sharpen, Luminance NR, Color NR, Whites, Blacks, Auto Tone and Auto WB, with others not shown in the scroller.
Tom's theme for these new technologies is that it's 'The start of the conversation'. It's about where we'd like to see it go. Well I know, I'm really excited! Adobe Revel already has the seamless syncing nailed, with basic processing and presets in place, so it's not hard to see Smart Previews instead of JPG.