After a few leaks, with plenty of dud links, Adobe have finally announced the availabilty of Lightroom 5 Beta. There's plenty of news and new features, so let's have a quick peek. I'll do more videos over the week on new features. Here's 10 of my favourite.
1. Smart Previews
Lightroom has always allowed you access to offline files everywhere, except Develop. Smart Previews now allow you to Develop offline files. Using lossy DNG technology, these previews can be edited, and the settings will automatically transfer when the offline files are reconnected. Another plus is that when Smart Previews are present for a file, it will load faster in Develop.
2. Non Circular Spotting.
>
You can finally brush to clone and heal. This is a biggie for me as it means less trips to Photoshop for images that don't need huge retouch work! There are also a tonne of new shortcuts for new sources and for moving the spot. My old Cmd/Ctrl drag to size a spot now has a shift added to make it work.
3. PNG Support
>
Yay! You can finally manage ID Plates & screen captures in Lightroom. Transparency is handled as white.
4. Radial Filter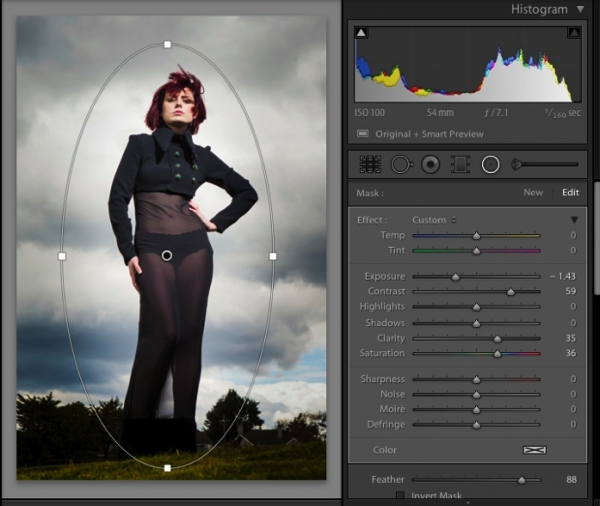 A radial version of the Grad filter is now here. You can use this for off centre vignettes. It also has an invert feature so it can be used in either direction.
5. Upright
>
This is a godsend for fixing straightening photos. It'll fix horizons and fix the keystone effect with buildings. It works best with Lens Corrections applied. It has 5 modes, Off, Auto, Full, Level & Vertical.
6. Videos in Slideshow
The underlying engine for Slideshow has been rewritten to include videos. There's also a fix for the music sync issue that plagued Lightroom 4.
7. Full Screen Mode
Lightroom now has a true Fullscreen mode, where the UI is removed completely. Handy for fullscreen impromptu slideshows!
8. User Configurable Grid Overlays
You now have grids and guides in addition to the Loupe Image overly from Lightroom 4. The grid size and opacity can be configured, and the guides can be moved to suit. These are visible in Loupe view and in Develop.
9. Import Show Toggle
You know how Lightroom jumps to the current import when you bring in images? Well you can now toggle that off, so you can continue working on your current photo when importing!
10. Set as Target Collection
You can now set a collection to the the target collection when you create it!
Okay, there's tonnes more features, especially little ones that really improve Lightroom. This is a beta, it's free, so go check it out and get involved in improving it before final release!
I do have one bit of bad news for timelapse lovers. Lightroom's new Slideshow engine breaks my Timelapse presets. I'm looking into ways of creating new ones, but I've no idea how long that will take.