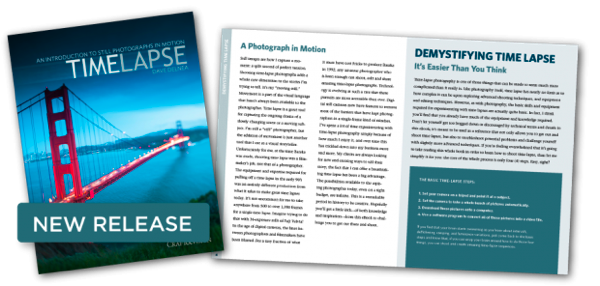 Craft and Vision have just launched Dave Delnea's book on Timelapse. If you've ever wanted to try create a timelapse with your DSLR, you'd be hard pressed to find a more informative guide from start to final film. Dave takes you through the gear you'll need to get started, and what to do with. Just as importantly he's takes you through the preparation stages so you'll know what not to do (like leave important gear behind). And then when you're done, how to process and turn it into a video.
>
This is very much a practical look at Timelapse. It's not about numbers and huge kit. It's about remembering to bring a seat, because it's a long wait until you're done! The book also contains many timelapse videos to demo exactly what Dave is talking about. If you've been watching me at all here, you know I love timelapse, and like me, Dave thinks of them as a faster slideshow of stills.
>
This isn't an advanced look at intricate details like motion control devices, although they do get a mention. It's about getting you in the field shooting, processing and creating timelapses.
For the gear sections, Dave discusses thing you need like tripods, intervalometers, as well as practical tips on camera settings to get the best intial files. As part of this flickering between photos in discussed, as well as tricks to overcome it. Some of these are mechanical, some are software based.
Next David takes us through the post processing to make the files the best they can be for our final movie. In keeping with the final movie as the goal, we also get a reference on sourcing music for our videos.
From there we get to build our movie. Dave wasn't aware of my own timelapse presets on writing, so didn't include them, but he does cover the Quicktime 7 workflow that I used before creating them.
>
More advanced techniques get a mention in the final section, but it's more a primer than an indepth discussion. Truthfully this is the best option for those beginning. Getting a set of good timelapse before getting gear to advance them is a must. You need to know you want to invest in this before spending more money!
Finally we get a series of Case Studies showing Dave's work, including client work.
For a beginners book, the basics are well covered. If you've been interested in Timelapse, this will get you going in this fascinating field. As always, Craft and Vision have filled in another knowledge gap for photographers at a great price. Don't forget that I'm also proud to be a Craft and Vision author. My ebook on Lightroom 4's Develop module called 'Essential Development' is also available.
For the first five (5) days only, use the promotional code TIME4 when you check out and pay only $4 OR use the code TIME20 to get 20% off when you buy 5+ eBooks. NOTE: These codes expire at 11:59pm (PST) March 22, 2013. Purchase Timelapse by Dave Delnea (Affiliate Link).