For the longest time Lightroom users with an iPad have wished for some kind of a 'Lightroom Lite' app. Of course the iPad is quite limited in memory terms, and CPU for that matter. But that still doesn't mean that there couldn't be a version that let you import images in the field, tag them, rate them, and do a bit of general management work. Adobe have been busy with iPad apps like Ideas and even a version of Photoshop. But no hint of anything Lightroom like.
In the meantime Photosmith has come to fruition. Think of it as a slice of Lightroom Library and you get a feel for the app. Obviously it's a lot more pared down, but it's eminently useful none the less. You can access all the images imported onto the device via the Camera Connection Kit, (or similar third party device), and via the 'Saved Photos' and 'Camera Roll' album (no videos though).
As to getting photos (and metadata) out, you simply download the Photosmith plugin from http://blog.photosmithapp.com/index.php/plugin/ and install it via the Plug-In Manager. Bear in mind Photosmith must be running at all times during sync, a limitation created by Apple. You can't switch to another app either.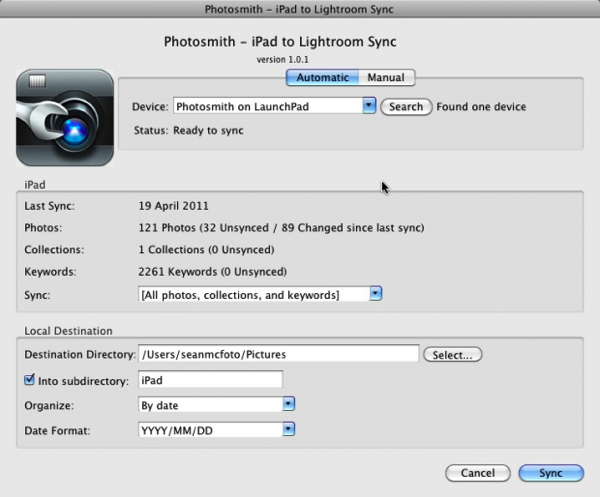 Using the app is really easy too. There are 3 main views, a Grid View, a Loupe view with a filmstrip, and a full screen view. With the thumbnail grid, you can make access all available images, make Collections and access some inbuilt smart collections like Last Import, Selected and Rejected photos. Loupe view is the workhorse mode for me. This is where you can reject, rate or label your images, with auto advance for speed. You need to swipe to skip, so I'd like to see arrows too, so you can just tap for faster selection creation.
You can also apply Keywords and Metadata from here. Currently this is one at a time stuff, but multiimage application is on the cards. You can also filter down images in the view, similar to the Attributes filter in the Filmstrip in Lightroom. Beside the filter icon is the view options. Here you can hide the Smart Collections and Thumbnail View options. The final icon on the top is Sync, which allows you to wirelessly sync with Lightroom (via the Plugin).
I really like this app. So much so that I'm not brining a laptop to Scotland later today. Brave move, I know. I'll be able to rate images there and hopefully have a collection ready to go on return. I definitely see this as being very useful for coffeehouse meets with clients. Much handier than a laptop!
I have to admit having being excited about this app when I heard about it. Now that I've got to play with it, that hasn't changed. The app is firmly in the file management arena, so you'll still need something like Filterstorm to process images. Once you get home, getting everything into Lightroom is a breeze, so you only need to edit the images once. Recommended.
For more info on the App, check out Photosmith-The Grand Tour.